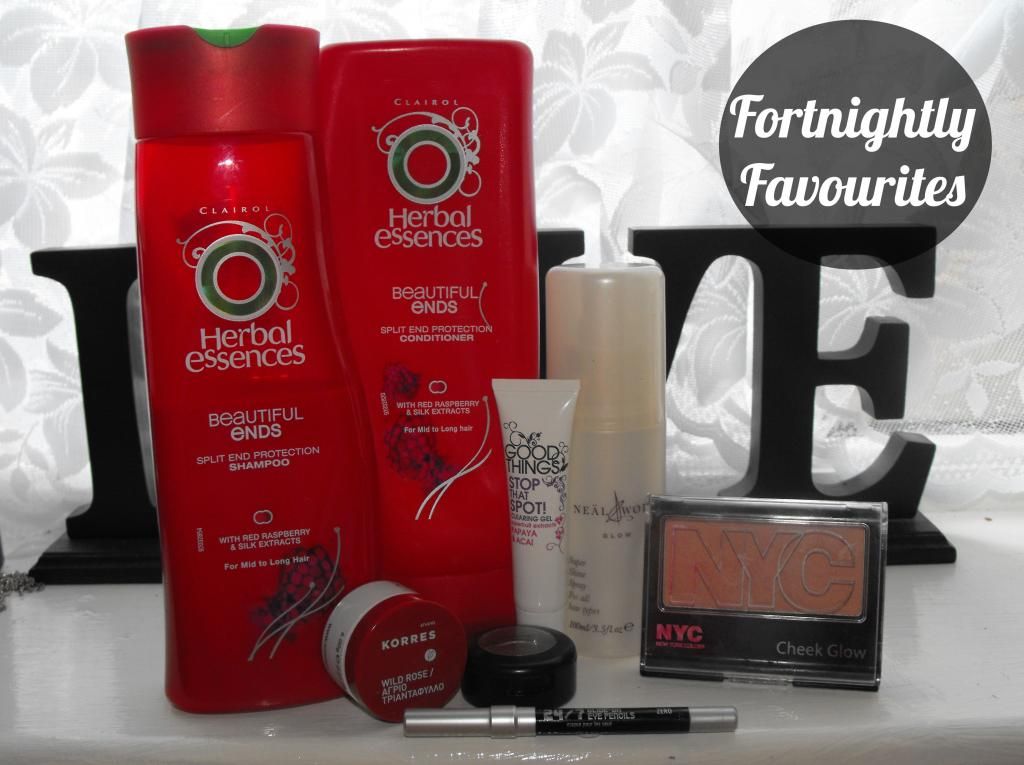 These past two weeks have literally flown by - i couldn't believe it when i realised this morning that my favourites post was due. It's Insane. I don't have as many favourites as usual this week, i don't really know why other than I'm still loving most of the products that i featured last time.
Herbal Essence Beautiful Ends Shampoo & Conditioner
As I've mentioned many times before i despise going to the hairdressers so my hair can often suffer with split ends so seeing this was for beautiful ends i had to try it out. Now it doesn't work miracles but i find it really makes my hair feel soft and I'm enjoying using these - smells really good too.
Good Things Stop That Spot Clearing Gel
I've been suffering with spots on my chin a lot lately (i blame Uni) so I've been using this every night and its really helped reduce the redness and calmed them down. Its not got rid of them completely but it has made a difference.
Neal & Wolf Glow Super Shine Spray
When i first tried this i didn't really feel like it made a difference to my hair - it just smelled nice and it was just something that i enjoyed using on my hair. The more I've used it lately, the more I've noticed the shine it adds to your hair and i really like it. Its not too much so it looks like your hairs greasy its just a nice subtle shine.
NYC Cheek Glow in Central Park Pink
When i first swatched this blusher i was really annoyed because there was barely any pigment to it, i decided to try it out
one week in my make up mix up, and actually found that you can build up the colour and it adds a really nice natural glow to the cheeks. Its a perfect shade if you just want a bit of colour in your cheeks without it being really noticeable.
Urban Decay 24/7 Glide On Eye Pencil in Zero
The past couple of days I've been wearing this instead of my liquid liner, mainly out of laziness but I've really been liking the way it looks. Shame, it's just a pain to remove.
Mac Frost Eyeshadow in Satin Taupe
This is no stranger to my favourites - every time i add it to my make-up mix up i find myself falling in love with it. It's so versatile - i love wearing it on its own all over the lid or creating a bit of a smoky eye by adding it into the crease.
Korres Lip Butter in Wild Rose
Since getting this i can kind of understand the hype that surrounds it, I've I've worn this pretty much everyday since it came in the post. I love the hint of colour it has, its made the perfect substitute for days I've not wanted to wear lipstick. Its really smooth on the lips and I'm so glad i caved in and bought it.
what are you current favourites?