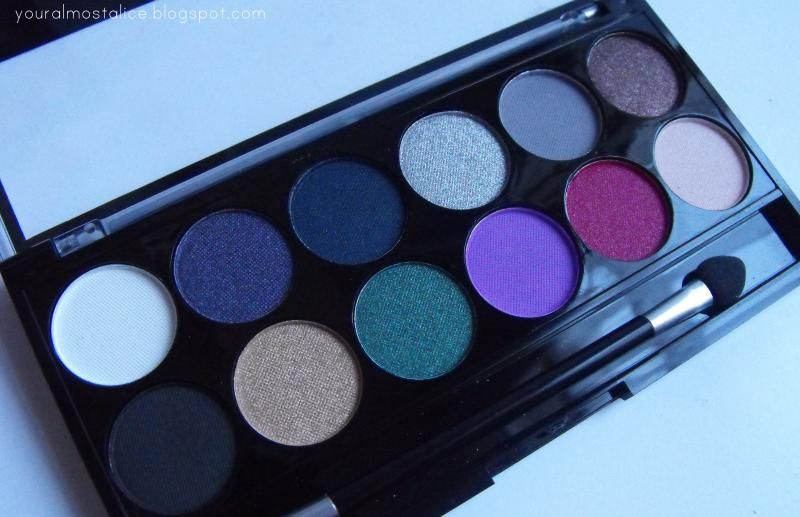 Yes, it is another MUA palette review - i hope you aren't too bored of them yet because i still have another two to go! I'm having a lot of fun testing these palettes out, I've been dedicating a week to each palette or longer if needed so i can get a good wear out it and then i can report back to you my thoughts and opinions! It's been a great way to make sure I'm using my palettes, so I'm considering continuing this rotation system as i have developed quite a palette collection.
Glamour Nights is a contrast of shades to the Glamour Days i reviewed here, these are slightly darker shades - i guess they would be more suited for 'night' time use (depending on how bold you like your eye make up) although there are shades in there that you can make wearable for the daytime. This is a really gorgeous palette and the is variety of dark and bright shades - the burgandy red shade on the bottom row is just gorgeous!
I say this every time but these palette are fantastic value for money - they're so cheap and the quality of the eyeshadows are comparable to some high end brands. They have fantastic pigmentation and the staying power is really decent, not only that but they apply and blend together really nicely. I put the staying power of this particular palette to the test the other day, i applied my eye make up at about half 10 in the morning - I used MUA Professional Eye Primer and the two ends shades on the right side of the palette, the light one all over the lid and the dark brown shade in the crease and it was still in place 11pm that night with very minimal creasing. Maybe it was down the the primer but regardless of that, if you're out and about all day or you work really long days and you need eye make that's going to last these palettes are perfect for that.
I can not recommend these palettes enough - even if the 'Glamour Nights' one is for you, there are so many different ones available and they are constantly producing more that there is something for everyone.
These palettes retail for £4 and are available
online
or in
Superdrug
What's you're favourite MUA Palette?
Natalie xx