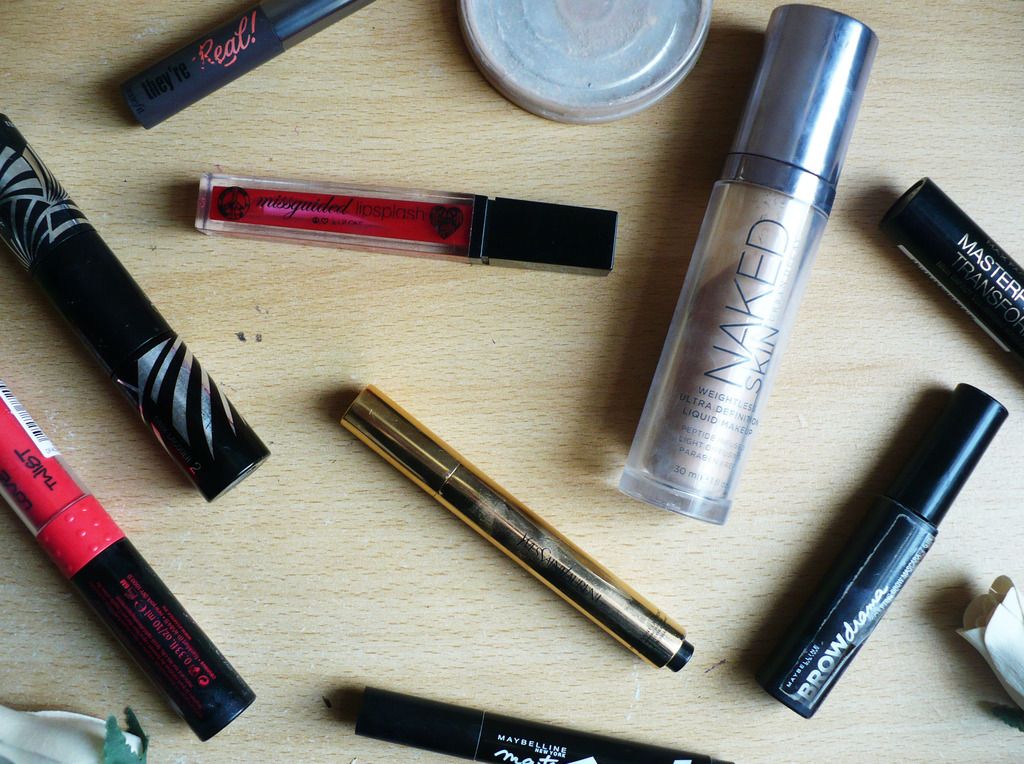 It's quite a satisfying feeling to finish up a make up product (unless you really loved it and then you have to go and buy it again) but knowing that the product hasn't gone to waste especially if you have a large collection like myself, it's makes me quite happy.
Missguided Lipsplash in Chilli Red
I've had this for the longest time, sadly it's not run it's just time i threw it out because it's old and a bit manky. I got this free in a magazine and i was obsessed with it, i wore it daily. It had a really lovely creamy formula and the it transferred a subtle shade of red to the lips, it was so pretty and so easy to wear.
Maybelline Mastergraphic Liner
I absolutely love this liner - it has an angled nip which makes it really easier to apply and control the liner as you apply it. It took me a little bit of time to get used to angling it because I'm used to thin felt tip type nibs but after a couple of goes it's so easy to use. It's very pigmented, lasts all day and i already have another one ready to go.
Maybelline Brow Drama in Dark Brown
I've used this to it's death, even when it had ran out of all product inside i still used it to groom my eyebrows. At first i wasn't keen because it was quite a wet formula but once it starts to dry out a little it's a lot easier to use. It's not good if you want a really thick and full brow but if you want something natural to just groom and set them this is perfect for that.
YSL Touche Eclat Radiant Touch
I didn't want to admit to myself that I'd used all this up because it's such an amazing product. A lot of people use this as a concealer despite the fact it is actually a highlighter. It does work well under the eyes as it really brightens up the area and makes you look more awake, i also enjoyed using this under my brow bone and along the top of my cheekbone for a subtle highlight. It's such a gorgeous product and i really hope to have it again at some point.
Rimmel Stay Matte Powder in Translucent
This is a lovely affordable powder that works great at removing shine and setting your foundation in place. The packaging is a bit useless as it's not very secure but it's cheap and it does the job it's meant to. I prefer the shade translucent so that it doesn't add any more colour on top of my foundation.
Urban Decay Naked Skin Weightless Ultra Definition Liquid Make Up in 1.0
This is one of those products that i do like but i wouldn't ever repurchase it. It's not a cheap foundation and whilst it is nice and lightweight, i find it can cling to dry patches so you have to really work it into the skin. It has a really natural finish but there are just other alternatives out there that are much better.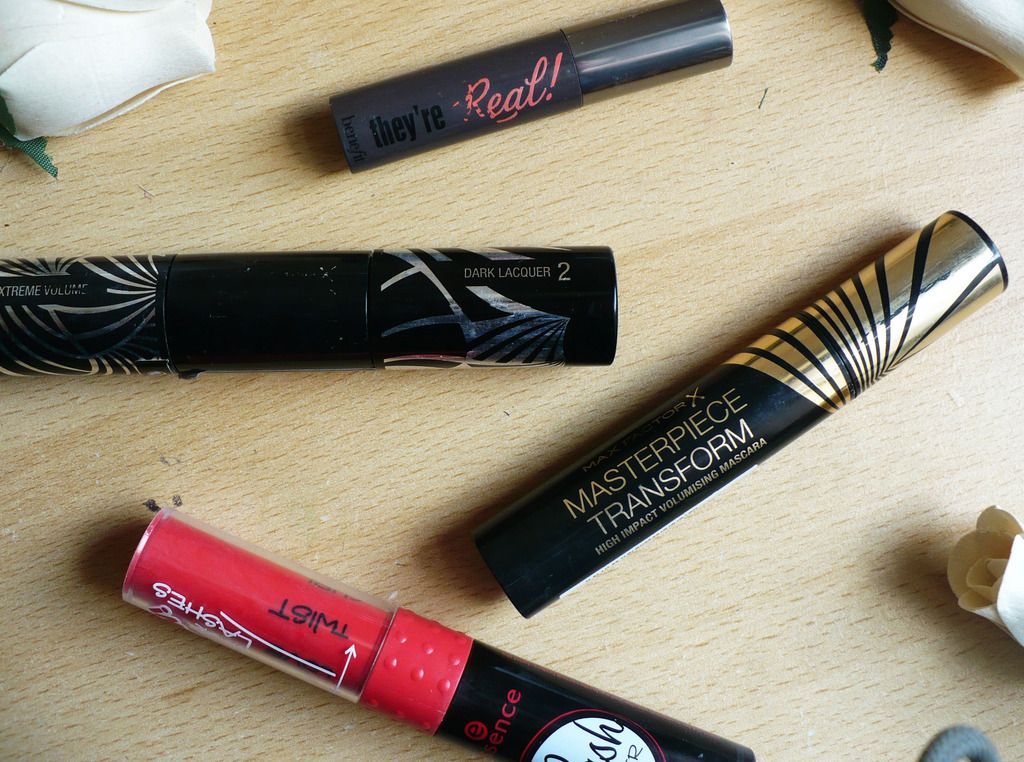 Benefit They're Real Mascara Mini
I love this mascara, Ive gone through many full sized and mini sized versions of it and I'm gutted that i have no other back ups of it. It really lengthens my lashes and the wand is amazing for separating out the lashes to making them appear thick and full.
Max Factor Excess Volume Impact Mascara*
This is another product I've really had a hard time letting go of. This is dual mascara which is something I'd normally despise but with this mascara it really really works. One end gives the lashes tonnes of volume whilst the other is a lacquer that helps hold them in place longer. It's such a good mascara and i love the way it makes my lashes look, i will definitely be repurchasing this (As soon as I've used up the million and one other mascaras that i have)
Max Factor Masterpiece Transform High Impact Volumising Mascara*
This mascara is another gem from Max Factor
-
it's a bit of an all rounder, adding both length and volume to the lashes. It does have quite a wet formula so you have to be quite careful when applying it otherwise you can end up with clumpy lashes but other than that it's a lovely mascara.
Essence The Lash Curler Volume and Curl Mascara*
The concept behind this is that you no longer need to use eyelash curlers because it has a manually rotating brush which curls them as you apply adding more volume and curl. This is a big disappointment and it doesn't absolutely nothing that it claims too in terms of curling the lashes, the brush doesn't even rotate properly. It adds a bit of length to the lashes but it's nothing to rave about.
What products have you used up recently?
Natalie xx
*This item was either gifted to me or sent for review.