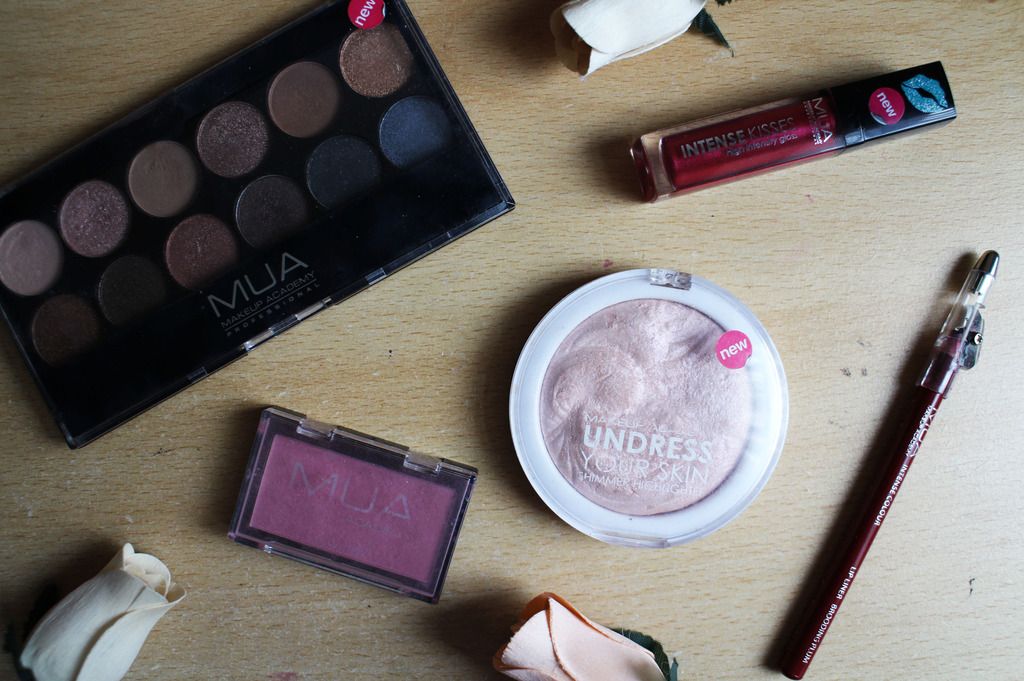 MUA is a brand that seems to have gone under the radar of late - as it's marketed as a 'cheaper' brand their products can often be quite hit and miss however, i thought I'd share a few of my favourite products from them.
MUA Undressed Palette
This palette is definitely no stranger to the beauty blogging world - it was named the first dupe for the Urban Decay original Naked Palette and i can vouch for it's similarities. It's such an affordable option and the quality of the eyeshadows are pretty amazing considering how cheap it is. They're pigmented, long lasting and blend together really well.
MUA Intense Kisses Lipgloss in Stolen Kisses
These lip glosses have a really lovely formula; they're creamy, non sticky and feel really pleasant on the lips. I was actually really surprised at the pigmentation of these, they give a really nice hint of colour to the lips. Stolen Kisses is a wearable deep red shade.
MUA Blush in Shade 1
I don't use this as much anymore at least not since my blush collection grew and I discovered other products but when i first started to grow my collection this was my go to blush for ages. It's a really nice dark pink tone and it leaves a really lovely flush of colour it gives to the cheeks.
MUA Undress Your Skin Highlighting Powder in Pink Shimmer
This is has got to be my all time favourite product from MUA. When i first bought it i wasn't too keen on it, so it went to the back of my drawer then i decided to give it another go and i fell in love with it. I wear it on my cheekbones, along the brow bone and the inner corner of my eye and i love how it looks. I've often received compliments about how glowing my skin looks and it's always been when I've been wearing this.
MUA Intense Colour Lip Liner in Brooding Plum
I don't reach for lip liners often unless I'm wearing a really bold lip colour. MUA do a range of colours all of which are creamy and easy to apply but Brooding Plum has to be my most used because it goes perfectly with Mac Rebel Lipstick (which i wore a lot during Autumn/Winter).
MUA products can be very hit and miss but if i was to recommend 5 products from the brand it would definitely be these 5. They're all so affordable and such great products that i reach for quite often.
Whats your thoughts on MUA? What are you favourite products from the brand?
Natalie xx