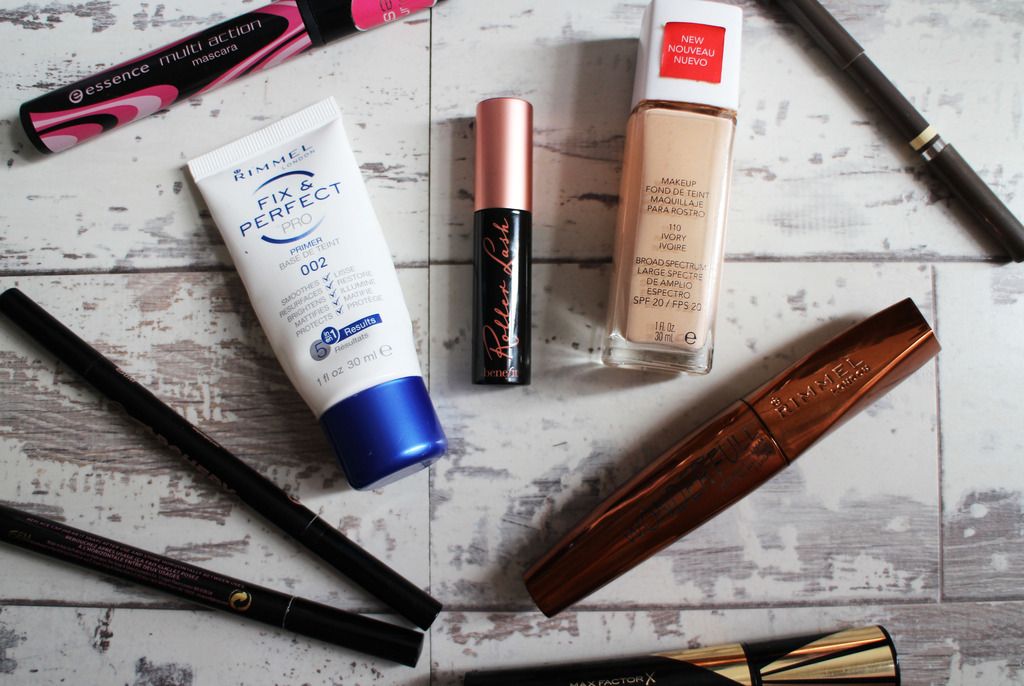 I've used up quite a few make up product since i last did one of these posts and a lot of the products seem to be mascara as they are probably the easiest product to use up. I think i say this every time but it's so satisfying knowing you've finished a product up without it going to waste.
Studio 10 Brow Definer*
This is a dual ended brow product; one side a brow pencil and the other a much lighter colour that is use as a highlight to help define the brow. I barely used the highlighting side but i really enjoyed using the brow pencil - it's suited my brow shade really well and it was so easy to use. It filled my brows in nicely but it was still quite naturally looking which i prefer.
Rimmel Fix & Perfect Pro Primer
I absolutely love this primer and i will definitely be repurchasing it as soon as I've used up the few that i already own. It usually takes me ages to fully use up a primer but i got through this so fast because i was using it on a daily basis. It's so nice to apply and it left my skin feel really soft, creating a lovely smooth base ready for my make up.
Benefit Rollerlash Mascara
This was the sample that you got free with Elle Magazine; i wasn't sure if I'd love it as I'm a massive fan of They're Real, I didn't know if it'd compare but it'd definitely surprised me. It made my lashes look amazing and really did volumize and curl the lashes. I honestly didn't expect to like it half as much as i did, it's not taken over as my favourite from They're Real but it definitely comes close.
Essence Multi Action Mascara*
This is a nice mascara but it didn't really blow me away. It adds length to the lashes but it's a very basic mascara. I think this is a good mascara for any young girls starting out in make up.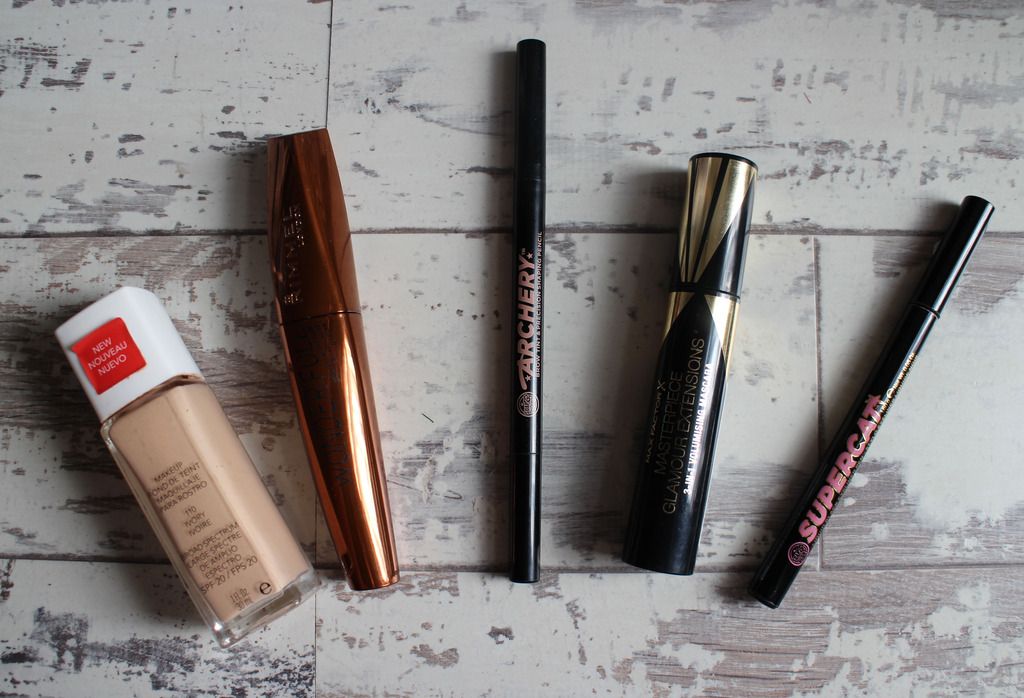 Revlon Nearly Naked Foundation*
I've mentioned this foundation multiple times on my blog; it's the perfect foundation for summer as it's so light on the skin. It has a fairly light coverage but it's easy to build up if it's needed and it leaves the skin with a really lovely and natural finish.
Rimmel Wonder'Full Mascara
This is such a lovely mascara and i love the packaging of the mascara, it looks way more luxurious! It's really good at separating the lashes, adding volume and making them look much fuller than they are. It has quite a big bristled brush, it's flexible and really defines the lashes from root to tip.
Soap & Glory Brow Archery Brow Tint and Shaping Pencil
This is a dual ended brow product with a pencil one side and a felt tip at the other. I enjoyed using both sides as they both filled in the brows really nice and both look natural too. I preferred the pencil over the tint but both worked really well.
Max Factor Masterpiece Glamour Extensions 3 in 1 Mascara
This is another really good mascara for adding volume to the lashes; i loved using this mascara for nights out because it gave me really thick and long looking lashes and it separates them so well.
Soap & Glory Supercat Liquid EyeLiner Pen
This is exactly like using a felt tip pen, has a thin nib making perfect for controlling the application and Ive also found that since using this, I've been able to wing out my liner a lot easier too. It really pigmented and it applies a proper black colour - i absolutely love this eyeliner and this it might be one of the best ones I've tried so far.
What make up products have you used up lately?
Natalie xx
*This item was either gifted to me or sent for review.