I'd been on the hunt for a nice purple toned eyeshadow for a while and was starting to give up, until i saw Collection had released this Smokey Purple Eyeshadow Palette. I'd heard so many great things about this range of palettes that Collection has released so i was really excited to try it out and to finally have found the purple eyeshadow i was looking for.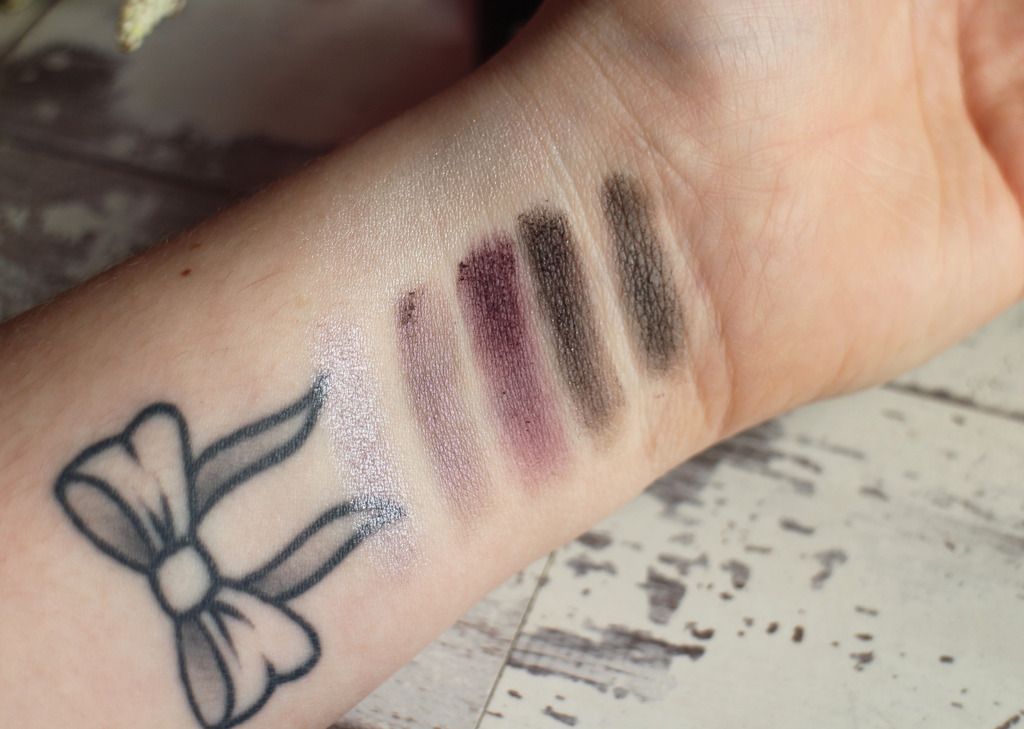 In the palette you get 6 shades - 5 shimmery and 1 matte. You get a white, lilac, purple, deep purple, purple toned black and black - so it ranges from light to dark. Everything you could really need, right?
Sadly, my happiness was pretty short lived as this palette is pretty terrible. The range of eyeshadows in the palette are beautiful, they really are but the pigmentation isn't very good, they're a little chalky too. You can kinda see the chalkiness in the swatches, the white and lilac shade was actually really difficult to swatch, i had to really build up the layers to make it visible for the photo.
When i first tried this palette out, i was picturing a really pretty smokey purple eye but it just looked a bit blah - and i don't think it was my make up skills either. I have tried it a few times just to see if maybe it was me, but everytime i still get the same effect. The shades aren't all that visible on the eyes and whatever pigmentation you do get, you kind of lose when you blend it out. I don't know if it's just this particular palette because i have heard many good things about the first neutral one they released and also the rose toned one so maybe it's just this purple one that's dodgy but yeah, i'm pretty disappointed.
I did actually give one of these palettes away in the giveaway i did, so im very sorry to whoever recieved that - i bought it at the same time i picked up mine and had i known it wasn't great, i wouldnt have included it. These do only retail for about £2.99 so it's not a massive loss for me but personally, if you're looking for some affordable eyeshadows i'd avoid this and look elsewhere.
Have you tried the Collection Eyeshadow Palettes?
Natalie xx